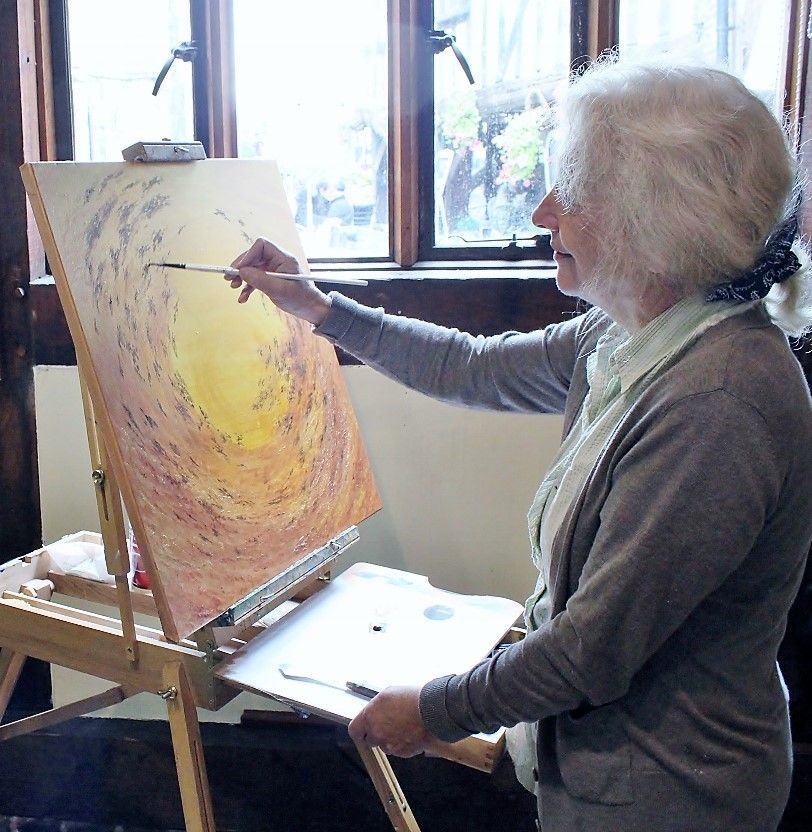 I grew up in Knowle, Warwickshire, and as a child I would wander the fields and woods searching for wild flowers. I can remember my joy at finding my first Harebells. On one occasion I was so entranced by finding a patch of Wood Anemones on my way home from school that I was late home and found my mother pacing the floor in tears. I loved drawing and painting, and would spend my pocket money on brushes and pencils.
I always wanted to be a landscape artist, and studied fine art and design at Birmingham Art College, but I became disillusioned and qualified as a Primary School teacher. Although I maintained an interest in art, it was only when I gave up full-time teaching that I had the time to follow my dream of becoming "an artist."
I regard myself as being self-taught, and usually paint in oils. I am excited by large dramatic or small intimate landscapes, the awesome mountains of the Highlands, or a tiny secluded corner of the forest, the varying patterns of leaves and blossom, the endless changing skies, the constantly changing ocean.
When painting "plein air" my aim is to convey the atmosphere of the landscape, to capture the special quality that drew me to that particular subject, and I love a dramatic sky.
Back in the studio, my painting will usually be many layered and complex. I build up the painting, layer upon layer, each allowing glimpses of the underlying landscape. Every painting presents a new challenge, and is approached in a different way. I love to experiment with different paints, tools and techniques.
I have held numerous solo and shared exhibitions, and many of my paintings are in private collections in the UK and Europe. I have had paintings selected for exhibition in many art galleries including Gallery3, The Gateway Arts Centre, Shrewsbury; Malvern Theatres Gallery; New Victoria Theatre Gallery, Newcastle- under-Lyme; The Granary, Weston Park; Keele University; The Great Sheffield Art Fair; Birmingham RBSA; The Williamson Art Gallery, Birkenhead; Buxton Art Gallery; The Brampton Art Gallery, Newcastle-under-Lyme; The Silk Museum, Macclesfield; The Nicholson Gallery, Leek; The Shirehall, Stafford; and The Kings Place Gallery, London.
In 2020 I was awarded the title "Landscape Artist of the Year" by the SAA for my painting " The Closing Day."
In 2022 I was a finalist in The British Art Prize and my painting " In a Corner of the Carpark the Poppies Still Grow " was exhibited in the Oxo Gallery on South Bank, London.
Contact; gillstokesart@gmail.com